COURSE OVERVIEW:
Elleebana's Lash Extensions Classic Foundation Course arms you with excellent fundamental core lashing skills. Our class is designed to deliver the essential techniques for safe applications of lash extensions as we guide you from your first day of training physically and then into your assessment and further supportive video links virtually. Our theory session commences with the elements required to give you a firm foundation and understanding of what is required for you to begin offering safe classic lash extensions applications.
You are guided through mannequin applications first to help build your confidence, co-ordination, hone in on your glue control and lash direction then our handpicked and passionate trainers follow you, support you and aide you while you begin your first lashing experience on your model.
Upon completion of your first day you are required to know and demonstrate all techniques from our criteria form and are tested on your knowledge retention with a quiz. We then ask you to practice and submit your before and after images for assessment and careful guidance before you are issued your certificate.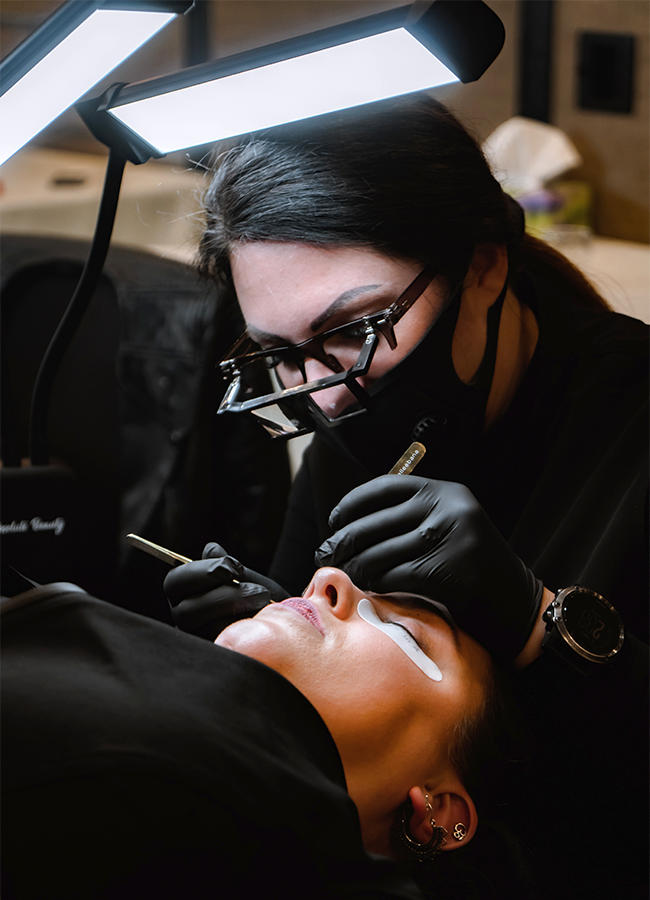 TOPICS WE COVER:
KNOWLEDGE:
• Learn how to offer safe lash extensions treatments
• Learn the difference between lashes – sizes, shapes and styles
• Understand lash extensions adhesives and the chemistry of these products
• Gain knowledge on lash pH and how primers and lash prep products effect results
• Correct lash consultation procedures
• Correct aftercare for your client's lashes
• Lash styling that is complimentary for your clients
SKILL:
• How to create a natural classic lash extension application
• Identify client's eye shapes
• Create visual differences to the shape of the eye from basic lash styling
• Lash with confidence
• Lash mapping
• Eye proportions
• Learn how to perform infills
• Lash methodically and build your speed and technique as well as understand how to practice your skills even without a model
• Apply lashes using varied styles
• Create symmetry
• How to safely remove lash extensions
BUSINESS:
• Learn about your income potential when offering lash extensions
• Potential profit from your Elleebana lash extensions kit
• Adhere to your local regulations for safety and sanitation
• Understand how to correctly troubleshoot with your clients
• Learn how to gain your certificate and credibility for your skill
COURSE PRICE:
$650
A non-refundable booking fee applies and is included in the above-mentioned price and full payment is required to secure your position at a class.
COURSE INCLUSIONS:
Full sized Elleebana Lash Extensions Kit. Over 9000 lash extensions in curls, lengths and thicknesses that you will use. This kit will enable you to offer around 100 applications of lash extensions (with the exception of the adhesive if this is not used within the expiry). You will also receive an instructional copyrighted manual, a criteria checklist to review your new found skills and to be assessed on your skills by your trainer, a fund lash quiz, access to promotional flyers, promotional images and a promotional poster all on a virtual file for printing or use on your social pages and finally your certificate upon submission of a minimum of 5 before and after images that are successful.
IMPORTANT TIMES:
Our lash extensions class 7.5 – 8 hours on day one. You then will have three months to submit your before and after images for assessment. We have a lot to cover and we are extremely passionate about you getting the most from this class so please be prepared.
IMPORTANT NOTES:
We offer this course as a beginner's course so that you can experience and be guided in your first lashing experience. We don't leave you to your own devices after that first day – you are welcome to call and contact us after your day of training with any questions that you might have and the correspondence continues as you submit your before and after images for assessment.
After you have received your Elleebana Lash Extensions Classic Foundations Certificate you are welcome to further your training with our Advanced Classic Lash Extensions Course. We believe that advanced training should be offered when you are ready to take your skills to the next level, when you are ready to absorb more information and after you have mastered the foundation skills first, we don't rush you or your skills – we let you develop in your own time and advance your skills as your business grows.
PLEASE NOTE:
1. A non-refundable booking fee applies for each individual cancellation. Full payment is required to secure a student's position at a course.
2. We reserve the right to withhold issuing of a certificate until competency has been achieved.
3. Poor Eyesight: If you have poor eyesight, please ensure you bring with you to the class your spectacles or magnifying glasses to ensure your sight does not suffer during this class. The nature of the treatment requires attention to micro detail.
4. Course Kits: Additional Attendees do not receive a product in their Course Kit (thus the discounted price), they receive manual / training and certificate upon successful completion of their assessment.
CANCELLATION POLICY:
1. $200 non-refundable Booking Fee applies for each individual cancellation or no show

2. Full payment is required to secure a student's position at a course

3. Student numbers are to be confirmed with Elleebana HQ on the Monday of the week prior to the training date

4. We reserve the right to withhold issuing of a certificate until competency has been achieved

5. We request that if you are feeling unwell or have COVID19 symptoms to speak with your Booking Agent and reschedule your training
**Price is subject to change
Santa Barbara, California:
01/22/2023
03/07/2023
05/14/2023
07/04/2023
09/10/2023
11/21/2023
Reno, Nevada:
01/15/2023
02/26/2023
04/04/2023
05/26/2023
06/11/2023
08/15/2023
09/03/2023
10/29/2023