ELLEEBANA WOULD LIKE TO WELCOME YOU BACK TO YOUR CLASSIC LASH EXTENSIONS – ADVANCED SKILLS COURSE. THIS COURSE HAS BEEN DEVELOPED AS THE NEXT PHASE IN YOUR LEARNING AND ALLOWS YOUR KNOWLEDGE AND LASHING TECHNIQUES TO BE IMPROVED, PERFECTED AND DEVELOPED BEYOND THE BASICS.
We welcome any classically certified lash technicians to this class but ask that anyone who has not previously received their certificate for their classic lash extensions class do this before attending the advanced course.
We do not cover the topics from our foundations course in detail – only very briefly as we have the advanced techniques and skills to cover.
We deliver a comprehensive theory manual with myth busting sessions and a detailed understanding of the industry's hottest topics, chemistry, styling and together with some techniques not readily showcased in other training.
During your guided lash application, you will be assessed on all your basic skills as well as your advanced classic skills that have been delivered throughout the theory component of your course.
This application of your understanding to the practical side of your skill is a key element in our assessment phase to ensure you leave with the best possible knowledge retention and ability to lash like never before.
We also test your knowledge retention further with your exam so we ask that you bring your open mind and willingness to learn, take notes and test your skills.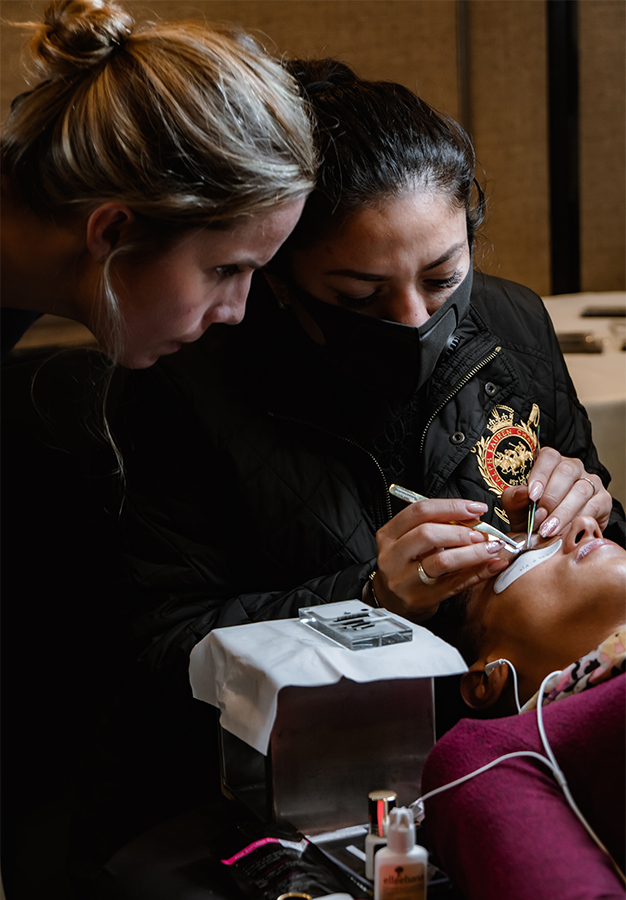 TOPICS WE COVER:
KNOWLEDGE:
• Your Body – and the impacts lashing has on your eyes, your hands, and your posture
• Masks, infection control and hygiene
• Your Products – the chemistry behind formulations of lash shampoos, cleansers, lash adhesives and other trending products on the market
• New Generation of lashing products and tools
• Your Styles – guides and aides to help you choose safe lash lengths and diameters
• Lash styles with attention to eye set, eye plane and eye shape
• Styling crafts with a variety of methods to choose your style and then how to map them.
• Premade Fans – help you gauge and understand what is safe when delving into the world of premade fan applications, what effects retention and how to market premade applications
SKILL:
• Glue control
• Advanced styling skills
• Asymmetry
• Zoning, layering and dark eyeline effects
• Lash equality and direction perfection
• Mixing curls
• Blending
• Taping techniques to create fuller classic lash sets
• Capping, stacking and candy caning
• Create visual differences to the shape of the eye from basic lash styling
• Lash with confidence
• Lash methodically and build your speed and technique
COURSE PRICE:
$650

A non-refundable booking fee applies and is included in the above-mentioned price and full payment is required to secure your position at a class.
COURSE INCLUSIONS:
This course delivers an extensive array of new information, chemistry background from Cosmetic Chemist Otto Mitter, as well as some awesome new products that are fresh to the market. You will receive an advanced adhesive for use and you are allowed to use all the latest curls, diameter and types of lashes that you receive in your new kit on the day as well as have access to your trainers stockpile of additional items should you need anything further.
Please bring with you your preferred tweezers for use.
You will receive over 12,000 lashes in your kit allowing you over 130 applications from the product you receive on the day. You will receive a certificate upon successful completion of your criteria assessment and online exam after the day of training.
IMPORTANT TIMES:
Our Classic Lash Extensions Advanced Skill class runs for 7.5 – 8 hours.  We will always do our best to stay on time and to our class structures.  We have a lot to cover and we are extremely passionate about you getting the most from this class so please be prepared with all that you might need.
IMPORTANT NOTES:
You can choose to combine this course with our classic foundation course making it a two-day course.  The content in these classes is very extensive and detailed – we encourage you to learn at your own pace and develop your skills when you are ready so you may prefer to book the classes separately so you can learn at your own pace.  This is the beauty of choosing to train with Elleebana, we understand that students all learn in different ways and we have adapted our courses and teaching skills to cater to all student's needs. We have found that information retention and understanding happens much better over a period of time with our helpful team of trainers and administration staff available to guide you through your lashing career.
After attending the Elleebana Classic Lash Extensions – Advanced skills course, you will be emailed a link to your exam to complete.  Once you have passed this exam, identifying that you have retained the information from your course your certificate will be emailed to you.  You will have 3 months to complete this online exam.
If you do not complete the exam within 3 months we may require you to do a refresh session with us to upskill so you are able to complete the exam.
PLEASE NOTE:
1. A non-refundable booking fee applies for each individual cancellation. Full payment is required to secure a student's position at a course.
2. We reserve the right to withhold issuing of a certificate until competency has been achieved.
3. Poor Eyesight: If you have poor eyesight, please ensure you bring with you to the class your spectacles or magnifying glasses to ensure your sight does not suffer during this class. The nature of the treatment requires attention to micro detail.
4. Course Kits: Additional Attendees do not receive a product in their Course Kit (thus the discounted price), they receive manual / training and certificate upon successful completion of their assessment.
CANCELLATION POLICY:
1. $200 non-refundable Booking Fee applies for each individual cancellation or no show

2. Full payment is required to secure a student's position at a course

3. Student numbers are to be confirmed with Elleebana HQ on the Monday of the week prior to the training date

4. We reserve the right to withhold issuing of a certificate until competency has been achieved

5. We request that if you are feeling unwell or have COVID19 symptoms to speak with your Booking Agent and reschedule your training
**Price is subject to change
Santa Barbara, California:
01/23/2023
03/08/2023
05/15/2023
07/05/2023
09/11/2023
11/22/2023
Reno, Nevada:
01/16/2023
02/27/2023
04/05/2023
05/29/2023
06/12/2023
08/16/2023
09/04/2023
10/30/2023